SIGN UP NOW
The HP Solve is a quarterly E-Newsletter that features news on STEM education by teachers and professors as well as information on HP education products, HP calculator applications, calculation theory, and community events.
Receive the HP Solve quarterly newsletter automatically and have access to the special discounts via e-mail.
Click here to sign-up
Issue 33, February 2014
Welcome to the thirty-third edition of the HP Solve newsletter. Learn about the latest news in STEM education, calculation concepts, and be the first to find out about new HP education solutions and special offers.
Download the PDF version of articles (1.68MB PDF)
.
Join our Facebook Fan Page
Contact the editor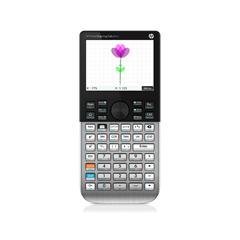 A Rose for You: Transforming the Plane
There's a new way students can be taught about transformations in the plane, including translations and reflections. Instead of the geometric approach, the HP Prime Advanced Graphing app allows us to take an algebraic approach.



(135KB PDF)
Your Articles

Put the focus back on the students in education
Christi Cole
Teachers are redistributing the responsibility for learning and teaching to focus more on the student. Changing to a mix of formative and summative instruction can allow students to become more self-aware and in charge of their own learning.


(87KB PDF)

HP Prime Connectivity Kit: Better engagement with students
Chris Olley
Engaging students in mathematical conversations is one thing, being aware of what students are doing and thinking while it's happening is another. HP Prime has a full suite of mathematical software to make this possible.


(160KB PDF)

Incubators for Innovation: How the arts can fostercollaboration
Laura Berlin
The Arts can be accelerators of learning and innovation. Even among strangers from diverse backgrounds, arts-based learning strategies have the ability to develop amazing innovations.


(359KB PDF)

Think strategically about teaching, learning, and technology
Jim Vanides
For educators using technology, it's time to stop learning about apps and start learning with apps. Powerful learning experiences are not possible without the combination of great teaching and the right technology.


(87KB PDF)

Seeking roots with the Bisection method
Namir Shammas
For centuries, solving for the roots of nonlinear functions and polynomials has been one of the cornerstones of numerical analysis. The Bisection method remains one of the simplest and slowest root-seeking methods.


(130KB PDF)

Meet Namir Shammas
Customer Corner takes a closer look at Namir Shammas, one of our worldwide users of HP's calculators.


(31KB PDF)
Learn more about current articles and feedback from the latest HP Solve newsletter, including a new Issue Index and information about the recent HP Handheld Conference.


(94KB PDF)